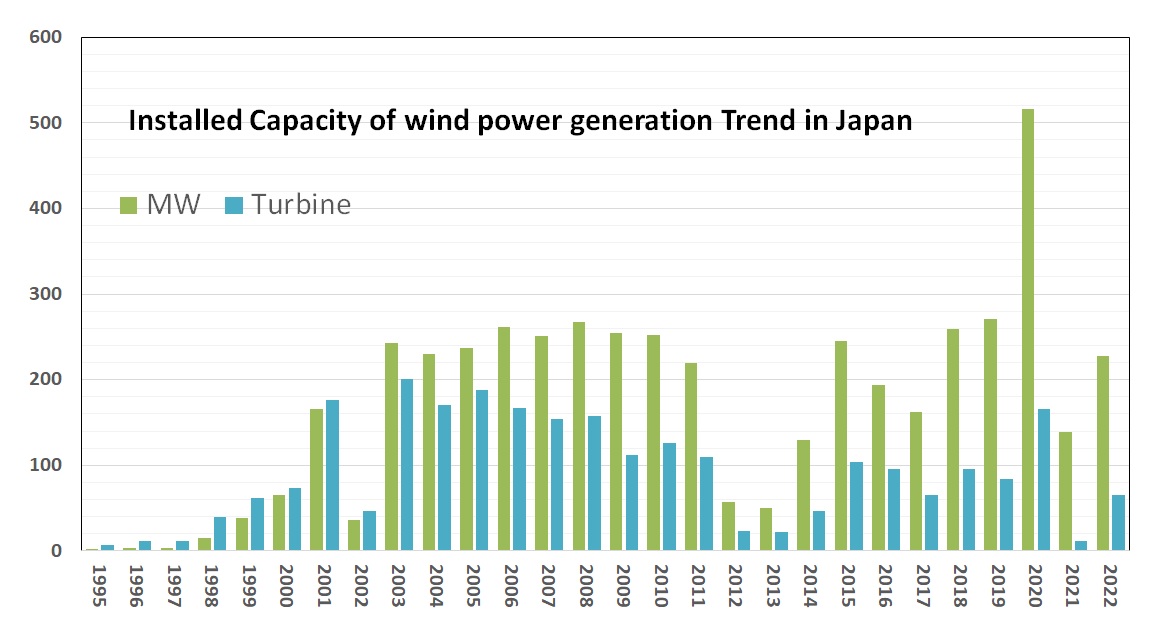 Result

at the end of December,2022

Cumulative installed capacity =4,802MW , 2,622Units

New installation in 2022(Gross)=232.9MW, 72Units

New installation in 2022(Net)=228.1MW, 65Units

Decommission =4.8MW、7Units
JWPA announced the installed capacity of wind power at the end of December, 2022 on a preliminary basis.
They are surveyed by the JWPA.
New installation of wind power in 2022 is 1.6 times higher than those of 2021.
Wind farms that have started operation in 2022 become larger in scale, with 6 wind farms over 20 MW.
The average size of new wind farms in 2022 is 29.1 MW/site, the largest ever. (updated from 27.6 MW/site in 2020).
The average rating of installed wind turbines exceed 3 MW for the first time, reaching 3.4 MW/unit.
The first large-scale commercial offshore wind farm in Japan (Noshiro Port Offshore Wind Farm (84MW)) is a major milestone.
In January, a large onshore wind farm (46.8 MW) started operation in Iwate Prefecture, and the offshore wind farm in Akita City (54.6 MW) is about to start operation.
More new installation is expected in 2023.
As for offshore wind farm, the cumulative install capacity as of the end of December, 2022 is as follows.
135 MW, 46 units, 8 sites (including semi-offshore wind farm accessible from coastal areas)
  -of which 91.4 MW, 23 units, 4 sites are full-scale offshore wind farms
  -of which 5 MW, 2 units, 2 sites are floating type offshore wind farms (Nagasaki Goto 2 MW and Kitakyushu 3 MW)
As mentioned above, Noshiro Port Offshore Wind Farm, the first commercial full-scale offshore wind farm, started operation at the end of December 2022.