Vision (Mid/Long-Term Installation Goals)
Supply more than 20% of the domestic electric power demand in Japan from wind power generation by 2050
Mid-Term Installation Goal
(2020)

About 11 GW→ About 23,000 GWh/year (ratio to total demands: about 2%), reduction of about 10 M CO2t/year

Mid-Term Installation Goal
(2030)

About 28 GW → About 84,000 GWh/year (ratio to total demands: about 9%), reduction of about 32 M CO2t/year

Long-Term Installation Goal
(2050)

About 50 GW→ About 188,000 GWh/year (ratio to total demands: about 20%), reduction of about 99 M CO2t/year
Road Map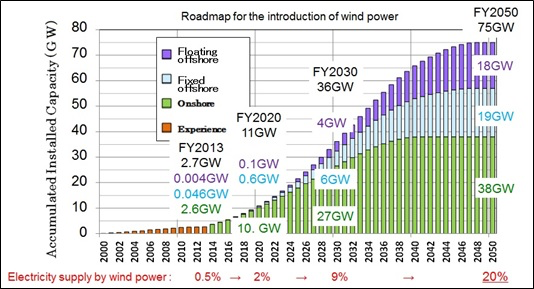 Mission
Basic Mission
Based on the basic philosophy as an industry group representing our country, implement and support all activities to achieve the vision (mid/long-term installation goal) of the new association.
Recommendations and Actions
Promote the establishment of the long-term installation goal and implementation of the various measures for the expansion and acceleration of installations, as well as positioning wind power generation as an important power source among purely domestic renewable energies for the long-term energy demand of our country.
To enlarge the acceptance capacity of the electric power system for wind power generation aiming at realizing the long-term installation goal of wind power generation; promote the implementation of various measures for strengthening the electric power system, such as the buildup and maintenance of transmission substation facilities; institutionalization of the maintenance cost burden; and utilization of a system of connecting lines between companies.
Promote optimization of buy-out methods (increase to appropriate prices, extension of buy-out period, price by electric power source: banding, etc.) for electricity and environmental values from wind power sources, aiming at realizing the long-term installation goal and sound growth of wind power generation.
Promote relaxation and rationalization of regulations relevant to wind power generation, including the Agricultural Land Act, Forest Act, Natural Parks Act, Electric Business Act, and Building Standards Act.
Implementation of Accountability (Industry Representativeness)
Ensure the implementation of accountability as a wind power industry group representing our country for various questions and criticisms from the inside and outside related to wind power generation.
Latest and Accurate Information Collection and Transmission (Wind Power Information Center)
Respond to all inquiries, accurately collect and organize the latest information and data on wind power generation, and provide the information to members as appropriate.
Extraction and Review of Issues to Address as the Industry (Expert Division and Expert Committee)
Extract issues to address as the industry and review the countermeasures or solutions, such as institutional, political, and technological issues surrounding wind power generation and problems relevant to location environments.
Interaction and Collaboration with Related Domestic and Overseas Organizations
Interact with domestic organizations relevant to wind power and renewable energies and overseas wind-power related organizations, and collaborate for expanding installations of wind power generation, as well as share information.
Support for the Development of Member Companies
Provide members the latest information and study results relevant to wind power generation; offer study meetings, lectures, observation, and training; and support member companies for the creation of business opportunities and business operations.
Promotion and Enlightenment Activities
Support education of environmental concerns, including on-sight learning for youth from educational institutions and citizens, except members, and promote an understanding of wind power generation by offering accurate knowledge.
Quality Improvement of the Industry
To enhance trust in wind power generation and promote understanding, plan to improve the quality of all enterprises and organizations involving wind power generation, such as wind power generation operators and turbine manufacturers, agencies, construction/maintenance related companies, consultants, and financial institutions.